Billboard Structures and Billboard Installation in Jeanette, Uniontown, Monroeville, Indiana, PA, Pittsburgh, and Surrounding Areas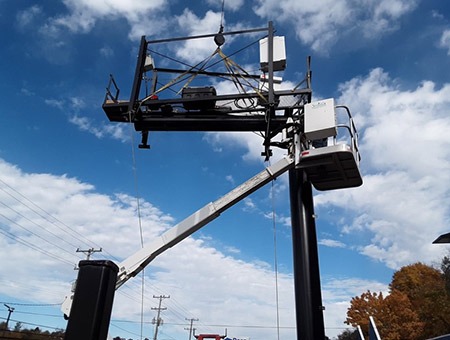 Seated over freeways, highways, intersections, and other busy roads and bypasses, billboards are one of the largest forms of advertisement for your business or mission. A variety of structures and outdoor electronic sign options are available. Billboards can help you get your message across and reach thousands of additional individuals and clients that your outdoor business sign cannot. As a surprisingly affordable advertisement option, billboards have extended reach and can pay for themselves in a short amount of time.
At Signstat Custom Signage and Lighting Solutions, our sign company has nearly 30 years in helping businesses in Jeanette, Uniontown, Monroeville, Indiana, Pittsburgh, PA, and the surrounding areas create and install unique custom billboards that fit your budget, needs, and desires. Utilizing the most recent technologies in outdoor signage available, our technicians perform safe and professional billboard installations that your competitors will envy.
724-527-7475
Custom Billboard Designs
Billboards are a form of advertising that can benefit businesses and causes greatly. With fantastic ROI, billboards should be incorporated into every business's budget. At Signstat Custom Signage and Lighting Solutions, we not only help you purchase and install billboards, but we assist our clients in billboard installations that are properly located to bring you plenty of eyeball traffic.
Whether you're using digital billboards or static billboards, a customized billboard can go a long way! Amongst the most popular benefits of billboard advertising are:
Eye-Catching Displays
24/7 Advertisement
Customized Location
Wide Net of Customer Targeting
Brand Awareness
Dynamic graphic displays Increased monthly income thru billboard space rentals
ROI
By getting to know you and your business personally, our design team helps you craft attractive and effective designs that can increase your business by an average of 10% – 15%. If you're thinking about purchasing a billboard think no more, give us a call today!
Professional Billboard Installations
Billboards require the proper permitting from a company that has knowledge to perform professional billboard installations. At Signstat, we do billboard installations from the ground up.
Whether you're looking for a static board or digital board, single sided or double sided, Signstat has a solution and experience to get it installed. Services include site visits, surveys, permitting and engineering.
Serving businesses and entities in Jeanette, Uniontown, Monroeville, Indiana, and Pittsburgh, PA for more than 25 years, our clients trust our team of professionals for all their billboard design and sign installation services.