Sign Company, Business Signs, Pylon Signs, Channel Letters, and LED Signs For Latrobe, PA
At Signstat Custom Signage & Lighting Solutions we're a sign company that's dedicated to the success of your business. Serving Latrobe, PA, and the surrounding areas with custom business signage, we help you get exactly what you want from your sign to create unique designs that reflect your brand and your personal style. From sign design and build, to sign installation, we're your complete business signage resource.
LED Business Signs in Latrobe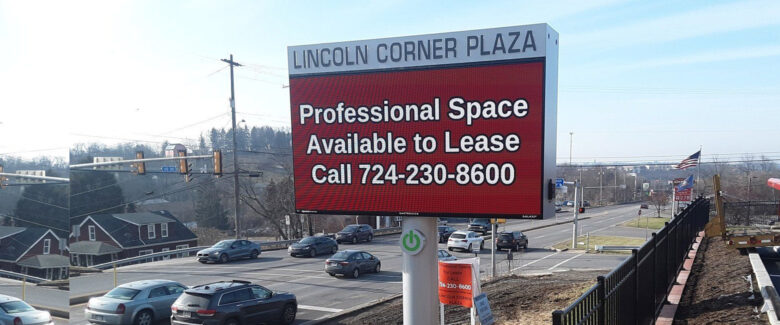 LED signs and displays are an ideal business sign option for businesses in Latrobe, PA, and the surrounding areas. Through pixels and diodes, you can create custom messages and graphics that can be seen from long distances. From billboards on the side of the road to monumental LED signs, we help you get the message out there about your business, and draw in new clients. LED signs are an ideal business sign option due to their many benefits, including:
Low-Maintenance
Long Lifespan
Modern Appeal
Diversity
Eye-Catching
Eco-Friendly
Pylon Signs & Channel Letters for Latrobe
Your business sign should make a statement! But more than design, your outdoor sign needs to be seen from a distance. Pylon signs and channel letters are large business signs that can be spotted from afar. If you're looking for an impressionable business sign, you can't go wrong with these sign options.
Pylon Signs – With heights of 20 to 80 feet tall, pylon signs, also known as pole signs, can attract attention from afar and are ideal for stores, gas stations, restaurants, retail stores, buildings, and more!
Channel Letters – Channel letters are typically around 1.5-2 feet tall and are installed as individual letters that can be illuminated for nighttime visibility.
Sign Company, Latrobe PA
Latrobe, Pennsylvania is a charming small community positioned in Westmoreland County. Located near Chestnut Ridge, Latrobe is a scenic town that has plenty of outdoor entertainment options for its residents. However, the charms of Latrobe shine through in the small business that makes up this friendly community. From shops, law offices, consulting businesses, and more, Latrobe, PA is composed of businesses that contribute to the overall success and economy of the community itself.
Just a short distance away in Jeannette, we are your local sign company resource that provides Latrobe, PA, and the surrounding areas with quality business signs. From design to installations we put you in the driver's seat to ensure that you get precisely what you want out of your business sign. To get in touch with a sign company with nearly 30 years of experience, give us a call today!