Sign Installation in Pittsburgh, Pennsylvania
Your sign is an essential part of your marketing and advertising strategy–it deserves to look good! But if your signage isn't sending the right message, it may be time for an upgrade!
At Signstat we not only provide Pittsburgh, PA businesses with sign design services, but professional sign installation with a one-year warranty. If you're looking for impressionable and affordable business signage, then contact us today!
Sign Installation & Design Services in Pittsburgh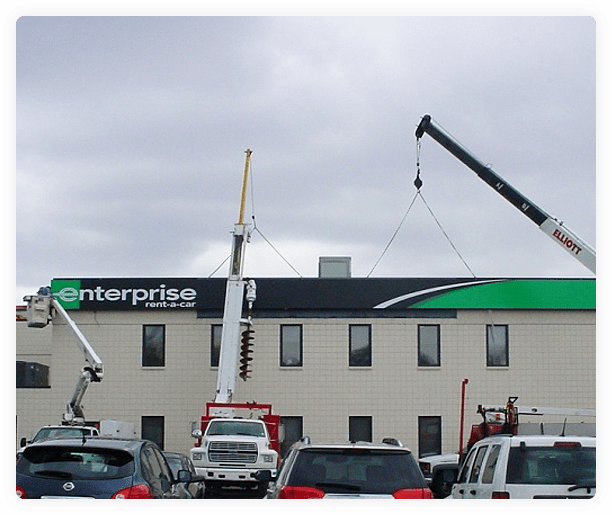 When it comes to business signage the most important aspects include sign design and sign installation. At Signstat we're proud to assist Pittsburgh, PA businesses owners by serving them with professional sign design and installation services.
Sign Design
From size, readability, color, lighting, texture, and more, your sign's design need to reflect your brand and bring clients to your door. Our designers work with you to create sign designs that meet your wants, needs, and budgetary requirements. By bringing your vision to life, it's our mission to provide you with the best signage at the best rate.
Sign Installation
Sign installation is perhaps the most complex part of purchasing business signage. Not just any handyman can get the job done! At Signstat we handle the various aspects of sign installation including permitting and engineering services, so you can sit back and relax, knowing that the professionals are taking care of the job! Our sign installation services include:
Installation of foundation supports
Pole replacements and footers
LED retrofits
Permitting and Engineering services
Auger services, and more!
Pittsburgh Sign Installation
Pittsburgh is a historical city seated in the west of Pennsylvania. Known for its various museums and home of the successful football team The Steelers, Pittsburgh entices visitors from all over the nation. But more than a great place to visit, Pittsburgh is known as an ideal place to live, work, and/or start a business. Known for its various financial and industrial businesses, there are plenty of opportunities for dreamers and entrepreneurs in "The City of Bridges".
At Signstat we provide sign design and sign installation services to Pittsburgh, PA and the surrounding areas. For the last 30 years we've been the preferred choice for all Pittsburgh's business signage needs. By handling the various aspects of design and installation we not only work with you to create attractive and affordable signs, but provide sign installation with a one-year guarantee on our work. Our professionals have experience in installing a range of sign including: