Sign Company, LED Signs, Pylon Signs, Channel Letters, and Business Signs in Johnstown, PA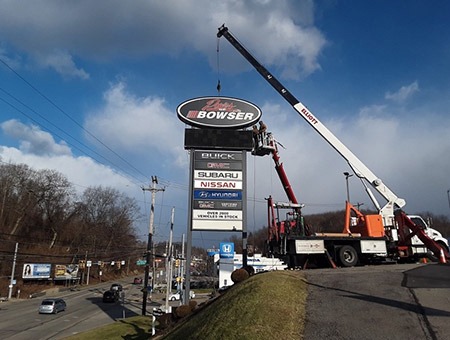 Unique signage can make a significant impact on your marketing efforts and the overall success of your business. However, if you want to achieve results, it is essential to cooperate with professionals who excel in sign installation. Brands from all industries in Johnstown, PA, trust Signstat to design, install, and remove indoor and outdoor signs.
We are the first sign company to call when you need custom signage, channel letters, pylon signs, and LED signs in all forms and sizes. With almost 30 years of experience, unmatched dedication, and highly trained professionals, we meet and exceed clients' expectations.
Sign Installation in Johnstown, PA
As a leading sign company in Pennsylvania, we offer all-inclusive services for all of your business signage needs. Our creative team can provide you with unique and custom signs suitable for your business and help with budget planning. We take care of the design and sign installation, and we offer routine maintenance to ensure your signage is on and shines bright.
Our crew operates crane trucks, Auger trucks, and bucket trucks to set the sign safely and complete the project efficiently. From monument signs to LED signage and channel letters, we provide small and large businesses with sign solutions necessary to create brand awareness.
Business Signs in Johnstown, PA

At Signstat, we exceed our clients' expectations. Whether you are looking for small, big, indoor, or outdoor signs for your Johnstown business, we offer several options in different styles.
Channel Letters: You can add a lighting component to each letter and make the signage pop.
Pylon Signs: These signs are perfect if you want your company name to be seen on the road, highway, or in front of big buildings.
LED Signs: LED signs are affordable and suitable for any occasion. Whether you want to promote a new product, service, or upcoming event, LED signs will attract attention.
Johnstown is a beautiful city in Cambria County, Pennsylvania, approximately 60 miles east of Pittsburgh. From German settlers to Algonquin inhabitants, the city has a rich history and plenty of museums to visit. The best places to explore are Johnstown Inclined Plane, Frank & Sylvia Pasquerilla Heritage Discovery Center, and the Boulevard Grill & Warehouse.
As the #1 sign installation and removal team in town, we pride ourselves on offering local businesses professional and affordable sign designs to attract new customers and promote their products or services. Contact us today at 724-527-7475 to talk to one of our experts and get a free estimate.