Sign Installation in Uniontown, Monroeville, Indiana, Pittsburgh, and Jeannette, PA, and the surrounding areas
Not all sign companies are the same.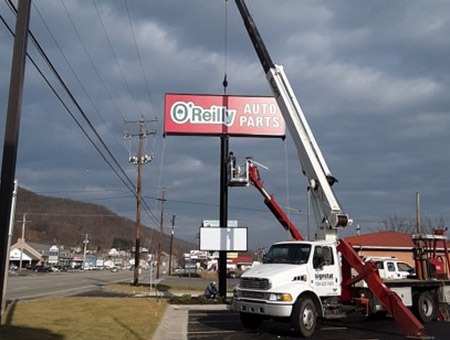 At Signstat Custom Signage and Lighting Solutions, we have nearly 30 years of experience providing businesses and organizations in Pittsburgh, Jeannette, Indiana, PA, and the surrounding communities with quality indoor and outdoor sign solutions. Working with your needs, wants, and budget, we make sign installations worry and hassle-free so you can focus on what's important– growing your business!
At Signstat, we handle permitting and engineering for sign installations and services for all types of custom sign and business sign solutions. We are equipped with Auger trucks, crane trucks and bucket trucks to complete the job efficiently. From outdoor LED signage, monument signs, channel letters, and more, we take pride in providing businesses large and small with the indoor and outdoor sign solutions needed to promote services and create brand awareness. Call us today to chat with a designer about your custom business sign needs and get started!
724-527-7475
Signstat Sign Installation and Design Services
At Signstat Custom Signage and Lighting Solutions, we provide our clients in Jeannette, Pittsburgh, Indiana, PA, and the surrounding areas with quality sign services that include custom sign designs, sign installations, and sign maintenance. With a one-year warranty for all of our products, we back our work and provide you with peace of mind.
From outdoor LED message centers, pylon signs, monument signs, to channel letters and more, we offer our clients onsite trouble-shooting and fully insured maintenance to ensure that your business sign is always looking its best. Our custom sign services include:
Storm damage repair for outdoor signs
LED Retrofits or fluorescent tube replacement
Auger services
Installation of foundation supports
Pole replacements and footers
Permitting and Engineering services, and more!
Pole Sign & Billboard Installations
At Signstat, we use industrial equipment and professional technicians for sign installations. Using cranes, auger trucks, and bucket trucks for sign and billboard installation, we install signs quickly, efficiently, and professionally. As a member of the PA One-Call, and armed with UL certification, we value safety above all else to ensure that your sign is sustainable and secure.
When looking for sign installation Pittsburgh residents trust most, look to Signstat!
At Signstat, we are a turn-key sign company that knows just how difficult pylon and billboard sign installations can be–which is why we take care of it for you! Trust a company that has years of experience in installing pylon signs and billboards. Without the proper permitting and professional expertise pylon sign and billboard installations can be a challenge. It's our goal to ease the burden by taking care of sign installations for you. With affordable business sign installations, we take pride in helping you grow your brand through signage advertising.